re:on Global Hyaluronic Acid Filler 1x1.0ml, 20mg/ml
Hersteller:

Oreon Life science

Art.-ID:

1416

Anwendung:

Durch fachkundige Spezialisten
Ausschließlich für
registrierte
und
eingeloggte
Kunden
Hinweis: Produkte von Dermedics können nur an Deutsche und Österreichische Adressen geliefert werden.
Note: Dermedics products can be shipped to German and Austrian addresses only.
re:on Hyaluronsäure Dermal Filler
re:on verhindert und wirkt dem Verlust von Hyaluronsäure entgegen und wird zur gründlichen Gewebekonstruktion eingesetzt.
Verbesserte Hauthydratation und Elastizität bei ausgezeichneter Verträglichkeit.
Hohe Sicherheit durch sorgfältig ausgewählten EDQM-zertifizierten HA-Inhaltsstoff und einer strengen Qualitätskontrolle auf BDDE Rückstände und Endotoxine.
Drei verschiedenen Konzentrationen von Hyaluronsäure, um allen Patientenbedürfnissen gerecht zu werden.
Hauptmerkmale von re:on
Hyaluronsäure nicht tierischen Ursprungs
Biokompatibel - Nicht-toxisch/nicht immunogen
Biologisch abbaubar
BDDE vernetzte Hyaluronsäure
Gel-Typ mit hoher Viskosität
HA-Konzentration 20 mg/ml (2%)
Hohe Viskosität/ geringe Einspritzkraft
re:on Filler Linie besteht aus 3 verschiedenen Produkten mit unterschiedlichen HA-Partikelgrößen, die speziell für verschiedene Hautschichten konzipiert wurden
re:on GLOBAL
Komposition: vernetzte Hyaluronsäure (20mg/ml)
Volumen: 1x 1ml Spritze
Nadel: 1x 27G Nadel, 1x 29G Nadel
Partikelgröße: 250 µm
Indikation: Korrektur oberflächlicher Falten, feiner Linien und Falten auf dünner Haut
Injektionsbereich: oberflächliche Dermis
Lagerbedingungen: bei Raumtemperatur (1-30°) lagern, vor direkter Sonneneinstrahlung schützen
Mindesthaltbarkeit: 36 Monate
re:on DEEP
Komposition: vernetzte Hyaluronsäure (20mg/ml)
Volumen: 1x 1ml Spritze
Nadel: 1x 27G Nadel, 1x 29G Nadel
Partikelgröße: 500 µm
Indikation: Füllung aller mäßig ausgeprägten Falten im ganzen Gesicht
Injektionsbereich: mittlere Dermis
Lagerbedingungen: bei Raumtemperatur (1-30°) lagern, vor direkter Sonneneinstrahlung schützen
Mindesthaltbarkeit: 36 Monate
re:on ULTRA
Komposition: vernetzte Hyaluronsäure (20mg/ml)
Volumen: 1x 1ml Spritze
Nadel: 1x 27G Nadel, 1x 29G Nadel
Partikelgröße: 1,100 µm
Indikation: Füllung tiefer ausgeprägter Falten
Injektionsbereich: tiefe Dermis oder subkutanes Gewebe
Lagerbedingungen: bei Raumtemperatur (1-30°) lagern, vor direkter Sonneneinstrahlung schützen
Mindesthaltbarkeit: 36 Monate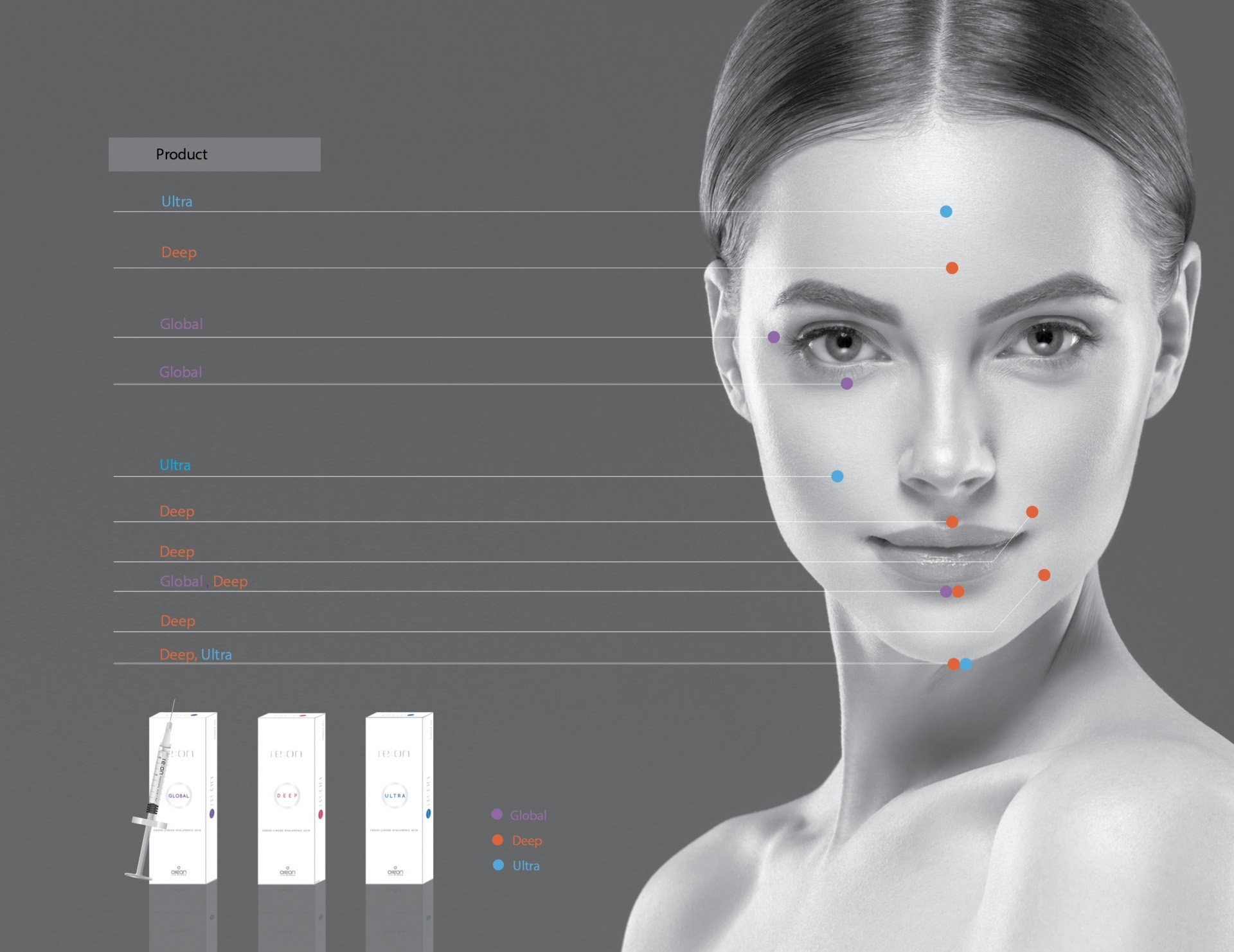 ---